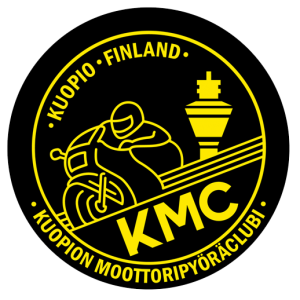 KMC in English
Kuopion Moottoripyöräclubi ry, KMC was founded 1981 and is located in Kuopio, Finland.
We are a group of people dedicated to establishing a good image of the tour motorcycling. We promote motorcycle safety while having fun riding and doing family and community oriented activities. KMC is a member of Suomen Motoristit Ry, SMOTO (i.e. Finnish Motorcyclists' Association).
The club is open to all type of motorcycles and to join the club you don't have to own a motorcycle – having interest to motorcycles is enough. You can also benefit from being a member by having e.g. discount on spares, accessories and ferry rates.
In summer our club activities concentrate on:
Attending motorcycle meetings
Community oriented activities
Social evenings
FINITA (Finnish-Italian motorcycle meeting)
Safety seminars, motorcycle handling trainings
In winter:
Club evenings once a week
Going to the motorcycle exhibitions (e.g. Helsinki fare)
Bowling
Taking care of our own motorcycles
Sauna evenings
Our own motorcycle exhibition Kuopion MP-näyttely